Meet The Team at Contant Law, P.C.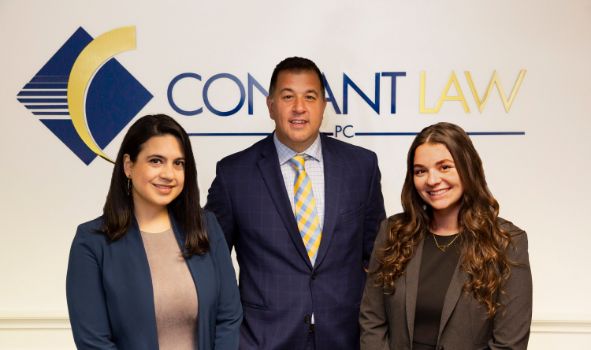 When it comes to challenging your criminal case, it is vital that you have top-quality legal representation on your side to offer you the very best chance to enjoy the justice and outcome you deserve.
Meet Solonge El-Hachem
Solonge El-Hachem is about as professional as they get and has years of experience, on top of that. Before joining our team, Solonge worked as a senior paralegal for several Boston area law firms, with a focus on litigation of personal injury and family law matters. With that experience in hand, Solonge has brought our team an unprecedented level of knowledge and skill that makes each and every one of us better. While Solonge's primary duties are to assist our attorneys with managing nearly every aspect of litigation, including preparing pleadings, discovery, research, and writing of motions and other litigation documents, she also acts as a liaison between our office and the Courts we work with on a daily basis.
Because she tackles so many roles and does them so effectively, she is often recognized for her tireless work ethic and terrific support, by both our team and our clients. Her compassionate and empathetic care helps her differentiate herself from others. Solonge doesn't view her role on our team as a job but as a service to others. That dedication and commitment to excellence bode very well for her future. Solonge is currently a full-time law student and is expected to receive her law degree from Massachusetts School of Law, Class of 2021. Our law firm is fortunate to have Solonge on our team and our clients will be happy to know they are in terrific hands with Solonge aiding them with their case.
What Do We Offer?
Our team is qualified to deal with a wide range of legal areas, and these include:
Criminal Defense:

The criminal justice system can be an intimidating and overwhelming place, and we can help you work through your case from start to finish. Our team has experience dealing with law enforcement agencies, prosecutors, judges, and trials to ensure the best outcome in your fight for justice.

DUI/OUI:

 driving while under the influence of drugs or alcohol is a criminal offense with Massachusetts applying different rules depending on the age of the driver. For those 21 and over, a blood alcohol count of 0.08% will see you convicted of drunk driving, while those under the age of 21 must adhere to a zero-tolerance policy. If you find yourself on the wrong end of a DUI or OUI conviction, we have the skills and knowledge to help.

All Forms of Theft, Burglary, and Robbery:

 Theft comes in a range of forms and levels of severity, from simple shoplifting to armed robbery. The penalties and punishments can differ depending on any previous convictions or records, the severity of the crime, and the nature of the victim.

Assault:

 From simple assault and battery to cases involving weapons and causing serious bodily injury, our team of attorneys has worked with individuals convicted of a wide range of assault charges and can advise you on the best course of action depending on your circumstances.

Domestic Violence, Restraining Orders, and Harassment Prevention Orders:

If you are a victim of domestic violence, there are steps and actions you can take to ensure the safety of yourself and your family. We can take immediate, tangible steps to ensure that you are safe, secure, and free from fear or harm.

Juvenile Delinquency:

 The juvenile system can be confusing.  Getting things right here can have a significant impact on the future and potential of a young offender. Make sure juveniles have the best chance to move forward by contacting a reliable, knowledgeable legal team.
Let our experience and reputation provide you with the best chance at a successful resolution to your case. Don't let one situation define you. Your future is worth fighting for, and we can help.